Youth Work Ireland and its Member Youth Services provide direct youth work supports and services to LGBTI+ young people, who either identify as lesbian, gay, bisexual or transgender or, are questioning their sexuality. Our clubs, projects and youth groups provide young LGBTI+ people with a safe space where they can hang out with their peers in a safe environment where they can meet, relax, talk, listen to music, and participate in games and organised social and educational activities, supported by trained and professional youth practitioners. Through our services we address issues and concerns that affect LGBTI+ young people and help increase the self-confidence and self acceptance of LGBTI+ young people. We also work with other community groups, organisations and schools to increase awareness about homophobic bullying and discrimination.
Youth Work Ireland are thrilled to launch a new resource to support and promote the understanding of issues facing young LGBTI+ people in Ireland today. 
The Bí Tusa resource will build on the brilliant work already taking place in Youth Work Ireland LGBTI+ & Ally groups around the country. This resource will support professionals, communities and parents to become more educated on the issues facing young LGBTI+ people so we can all play our part in being advocates for young LGBTI+ people.
This resource is building on the large body of work done in Youth Work Ireland services to support young LGBTI+ in their personal journeys, and also to increase the visibility and acceptance of all young people.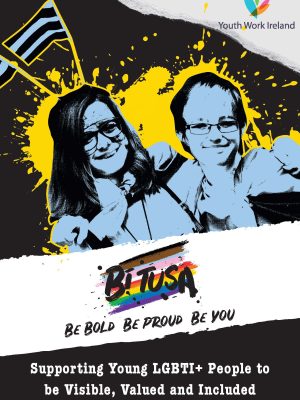 Young and Trans Resouces Launched
Youth Work Ireland has produced two resources to raise awareness of trans issues and how society and those working with young trans people, can better support this group. In recent years Ireland has become a more inclusive society with the passing of equality-based referenda and legislation, however young trans people, particularly those living in rural areas continue to face high levels of transphobic bullying, social anxiety, discrimination and isolation.
Youth Work Ireland is now responding to this need by facilitating youth work with trans young people and developing resources to promote this as a normal mainstream part of youth work throughout Ireland. We were delighted to work with our friends in TENI in producing these publications.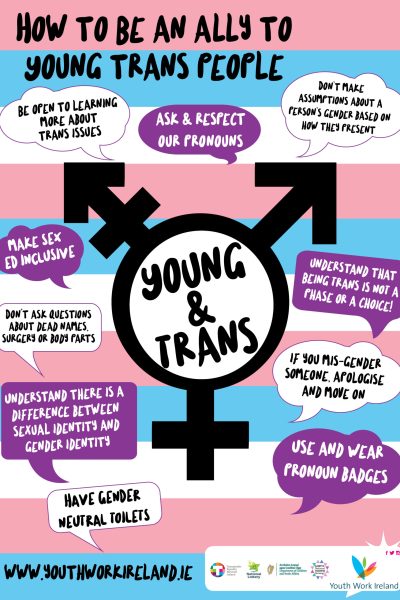 How to be an ally to young
trans people - Poster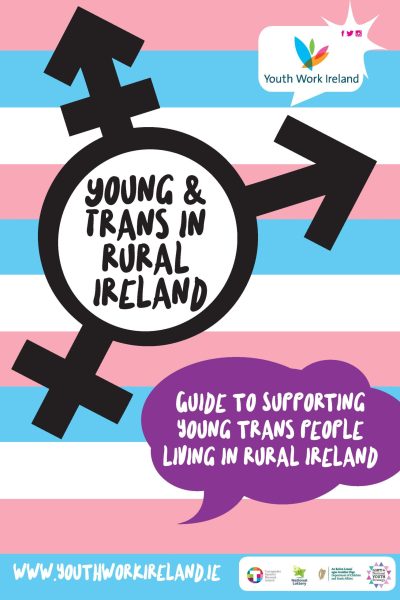 Guide to supporting young trans people living in rural Ireland
Youth Work Ireland at Dublin Pride
Over the last five years Youth Work Ireland and Belong To Youth Services have brought together LGBTI+ youth groups from all across Ireland to march in Dublin's Pride parade. The group, consisting of various clubs and projects from LGBTI+ and ally groups was the largest ever single group of young people marching under one banner 'Transforming young LGBT lives' at Dublin Pride. 
The two organisations, who have a longstanding partnership working with LGBTI+ young people around Ireland, have ramped up their support for this Pride parade and efforts to facilitated all young people who wished to march and celebrate the recent gains for LGBTI+ young people over the last number of years.