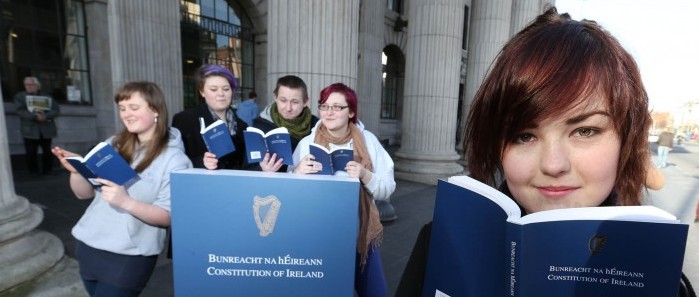 In the media, young people are often portrayed as a problem. As a result, concerted action is needed to tell good news stories about youth that we see on a daily basis throughout our clubs and projects. Positive stories of young people are important to recognise their achievements, encourage them to continue participating in programmes, and to inspire their peers to get involved too.
We work hard to counteract the negative portrayal of young people through a variety of programmes. While we are the national voice to stand up for young people when they need it, a lot of our work revolves around supporting the Voices of Youth Group to speak for themselves. Regular inputs on national radio, television, and in the media suggest that Youth Work Ireland is the go-to youth organisation to offer an experienced voice on the issues facing young people in Ireland today.
Regular press releases, submissions to the government, and collaborating with government departments ensures that young people and youth services are considered all the time.
Young People's Constitutional Convention Meeting, Saturday April 20, The Mansion House, Dublin
Youth Work Ireland facilitated a Children's and Young Peoples Constitutional Convention in April 2013. As the selection method for participatiion in the National Constitutional Convention Committee excluded young people, we felt that the voices of young people needed to be heard in this important matter. 
Our Constitutional Convention meeting took place in the Mansion House, on Saturday April 20th as part of Youth Work Ireland Week and was chaired by Tom Arnold. At the end of this event Tom Arnold invited the Voices of Youth group to attend the national meeting of the Constitutional Convention and give their feedback.
Watch their presentation here
What Rules Rule You! Clothes, Hair, Piercings, Expulsion, Governance all Feature at "What Rules Rule You" Young People's Rights in education event!!
A Voices of Youth and Youth Work Ireland Event, February 2014
This event brought together young people from across the country to express their views on the rights of students and rules in their schools. They looked at topics ranging from uniforms, hair and make up to ensuring that school rules change with the times and connect with the lives of young people.
Feedback was collected from young people working in four different workshops during the day and there was a Questions and Answers session at the end with experts such as the National Council for Curriculum and Assessment, The Equality Authority and The Children's Rights Alliance" said Joanna Siewerska (17) co-chair of the events. 
A toolkit resource will be produced from this event.