Voluntary-Led Youth Clubs
Many young people do not have a safe place where they have a sense of belonging, where they have people who believe in them, or a place where they can form positive relationships with adults. Youth Work Ireland, through the clubs and projects run from out Member Youth Services, offers young people from every background a place to go, a listening ear, and support if they need it.
We have over 200 clubs in communities all over Ireland. The local youth club is often the heart of the community where young people, youth leaders, adult volunteers, and staff come together to be part of something important. The youth club encourages participation and fosters a sense of belonging for young people, as well as training and support for volunteers.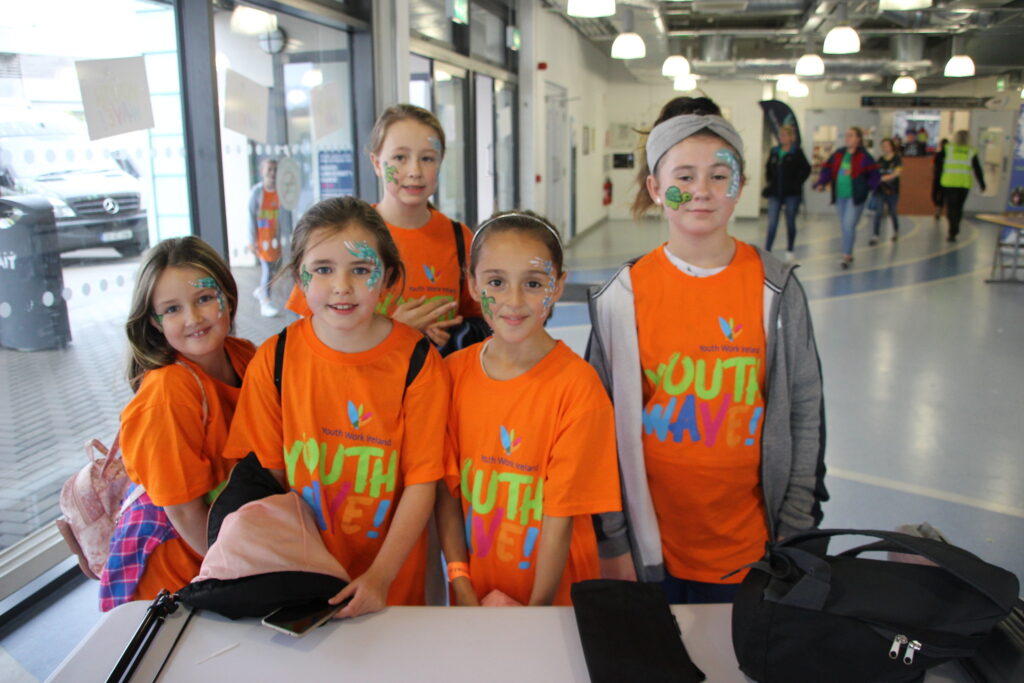 Youth Wave is a national event and is a celebration of youth clubs and based around supporting young people to be active and healthy.  It is a one-day event where young people gather to learn and share, be entertained, take part in workshops, network and have fun.  It is open to all youth club members within Youth Work Ireland.
Youth Wave 2022
Youth Work Ireland's annual celebration of youth clubs is taking place on Saturday 22nd October in National Office, Dublin. Youth Wave is a chance for youth club participants, workers and volunteers to come together at a national level to take part in fun, educational and interactive workshops where they can learn new skills, be entertained and have fun. Workshops themes this year will include climate justice, video making, STEM Lego, circus skills and much more – see full listing below. 
Book your group in at Youth Wave here>>
Youth Wave is open to Youth Clubs within the Youth Work Ireland Federation only.
Closing date for registration is Thursday October 13th 
To coincide with Youth Work Ireland Week 2022 we developed an activity pack to support youth clubs and groups get back to working in a physical, fun and meaningful way. The need for this pack has been identified by the Youth Work Ireland Clubs Development Network. The development of the pack was guided and informed by young people and youth workers through consultations, focus groups discussion and online surveys. They identified the themes and topics of the activities pack.
This pack is divided by months, beginning with September and ending in May, which marks the traditional beginning and end of a youth club year. Each month is further divided into sessions which contain activities that are relevant and topical for each month.
We hope that the pack will engage young people in creative and fun activities around issues important to them.
Youth Work Ireland's Club Insurance
Youth Work Ireland's insurance scheme provides an insurance facility for affiliated members. The scheme enables a youth club to provide a variety of activities which cater to the needs and wants of young people while ensuring their welfare and safety during the activities. The insurance scheme also indemnifies the youth club leaders and members in respect of their legal liability for accidents to persons or damage to their property and the policy caters for legal liability for accidents or injuries which leaders or members suffer as well as members of the general public.
Our Insurance Booklet provides more details of the Youth Work Ireland's Insurance Scheme and includes information on the covers which apply to your club, the activities which are catered for, and indeed those which are not automatically catered for. In addition you will find Health & Safety Information which may be of use to you.
Youth Cafés are safe, alcohol-free places where young people can meet friends, have fun, and take part in a wide range of activities. Youth cafés are for young people and run by young people.  The young people are supported to set up their youth café by the regional service. There is a number of youth cafés run by Youth Work Ireland services. The informality of the Youth Café offers young people a space to develop relationships outside the school and family structures, while also staying in a safe environment. Youth Cafes also offer the young people who run them, a set of skills that they would not receive anywhere else, such as entrepreneurship, leadership and management.  Youth Cafés are an increasingly popular service for young people and are met with a growing demand. Investment will provide dedicated supports and training to multiply the numbers of these cost effective and much needed services throughout Ireland.
Nollaig is Youth Work Irelands "Design a Christmas Card" competition. The competition is open to all young people affiliated to a Youth Work Ireland Member Youth Service. There are three age categories 5-9, 10-14 and 15-18 years of age and a winner is chosen from each. An overall winner will also be chosen, and this card is used as the Christmas e-card for Youth Work Ireland. The overall winner and the winners of each age category receive a gift card and a copy of their card is framed.
Volunteer Led Youth Groups are the lifeblood of our communities. The local youth club is where young people go to have free, unstructured, safe spaces to be with their friends with the support of adult volunteers. If you would like to volunteer with your local club/ group, contact your Member Youth Service here.
The clubs network is a space to share club information, offer support and share ideas. It is made up of club development officers from each of Youth Work Irelands Member Youth Services. The group meets approximately 4 times a year (currently online). If you would like further information, please contact Geraldine at gmoore@youthworkireland.ie