National Consensus Process
Youth Work Ireland's Consensus Process is approach whereby we work in a deliberate way to combine the views and opinions of all sections of our membership, including young people, staff and volunteers, with our practice, wisdom, evidence and expertise from outside of our organisation to inform and develop our practice and policy. Through this process we promote our work, develop our practice, improve our services, campaign for young people and strengthen our Federation.
Our yearly consensus process includes regional learning and sharing workshops, Youth Work Ireland Week, an Oireachtas Briefing, policy work, training and resource development, an advocacy and awareness campaigns, Oireachtas Briefing and National Consensus Conference.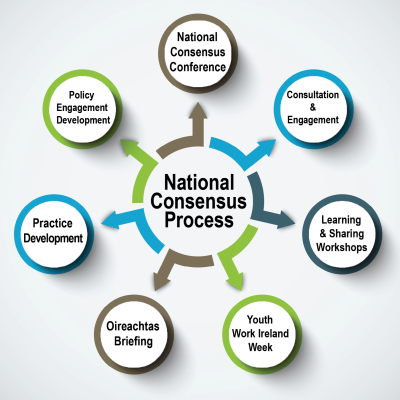 What is the purpose?
The purpose of the Consensus Process is to ensure the views and opinions of all sectors of our membership is heard and informs practice, policy and national campaigns.
Who is this for:
The consensus process is for young people, youth workers and volunteers within Youth Work Ireland's Member Youth Services. The programme of activities is primarily aimed at hearing the voices of young people in relation to youth and youth work issues. It also offers young people the chance to meet others and have fun. 
We actively encourage the participation of young people from seldom heard and minority communities.
Youth Workers – The format, topics and methodologies of the workshops are designed to provide rich learning and networking experiences for youth work staff accompanying their youth groups.  
Board Members and Leaders – The workshops will develop national messages and advocacy goals related to youth work and youth issues. These messages will be shared and shaped with leadership teams within the Member Youth Service. Attendance by senior leaders at consensus events would be very beneficial in understanding and developing a national agenda.
What do we want to achieve?
Identification of an issue by young people – achieved through a robust participatory process
National agenda around issues of importance to Members.
Communications and advocacy campaign backed and influenced by local experience.
Outcomes of the Consensus Process
Participation of All Sections of our Membership
The work of Youth Work Ireland is steered, influenced and guided by young people, practitioners and volunteers – all sections of our membership have a say and role in what we do.
Promote Member Youth Services Practice
The work of Youth Work Ireland Member Youth Services is promoted, by identifying and documenting practice through the  Learning & Sharing regional workshops. 
Identification of key issues amongst members and lobbying of decision makers in these matters.
Policy and Organisational Development
Identification of an input into policy issues through learning and sharing workshops. Through the National Conference policy makers engage with us on issues and policy.
Youth Participation Group
Youth Work Ireland's Youth Participation Panel is made up of a group of dedicated and passionate young people from across our Member Youth Services.
The group work together to plan youth events that engage young people in workshops so that their the views and opinions can be heard at a national level. They also take part in training to support their leadership skills and develop and roll out advocacy campaigns on issues that arise from the youth events.