Creating Safe, Inclusive and Proud Spaces for Young LGBTQ+ People thought Youth Work Practice.
PROUD SPACES is an Erasmus+ funded project that will evidence the positive outcomes youth work practices achieve in creating safe spaces for young LGBT+ people. Together with our partners European Confederation of Youth Clubs (Belgium), GrowSpace (Poland) and Youth Work Ireland Laois and we will develop tools to support youth workers in creating safe and inclusive spaces for young LGBTQ+ people.
Ireland as a society has come a long way in its acceptance and inclusion of the LGBTQ+ community. Young people accessing our youth clubs get to explore and celebrate their identity in a safe and supported way. However, this is not the case in some European jurisdictions where the human rights of young LGBTQ+ people continue to be eroded and where policies and legislation seek to further exclude and discriminate. The PROUD SPACES project has been deliberately planned to address such concerns through European cooperation and shared policy engagement. By evidencing and promoting the success decades of Irish inclusive youth work practices have had on the lives of young Irish LGBTQ+ people, we can seek to influence and inform European policy.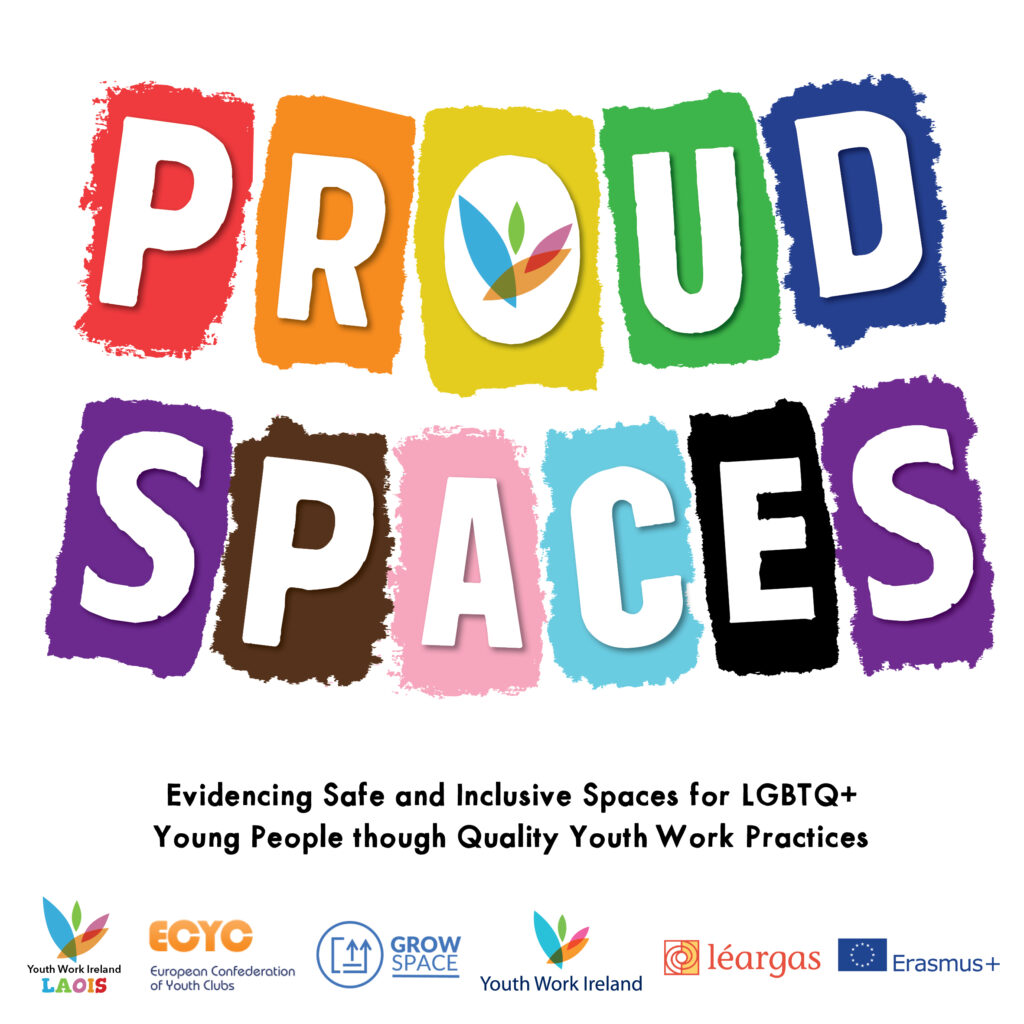 The Proud Spaces research project will establish and support an LGBTQ+  model of practice for Youth Work Ireland Member Youth Services. By surveying youth workers on their experiences and expertise we will develop important tools for growing and developing our inclusive youth work.
Young People's Proud Spaces - Youth Work Training
As part of the Proud Spaces project Youth Work Ireland Laois will hold an online training session for youth workers who want to contribute to research to support young LGBT+ people and youth work practices.  Taking onboard the feedback from a nationwide survey Youth Work Ireland Laois have designed the one hour workshop to deliver during LGBT+ group sessions that will enable young people to share what their 'proud spaces' are and highlight how youth work practices impact on their lives. 
The workshop takes place on Thursday February 9th from 11am – 12.30pm via Zoom and will support youth workers to run an interactive workshop with their groups to provide them with a safe and supported platform to have their voices heard.