A new study from Limerick Youth Service on the needs and experiences of  young people growing up in rural County Limerick was launched recently. The 'Baseline Study and Needs Analysis of Young People aged 10-18' was commission by LYS to capture the experiences of young people in rural communities, and to highlight the gaps in terms of the knowledge available in the profile, needs, interests and concerns of this cohert of young people.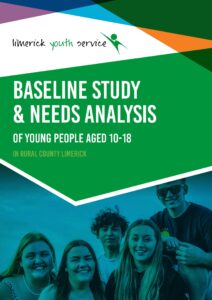 The findings from this study show us that while many young people in rural areas are doing very well, there are those who are not enjoying their educational experience and others are enduring financial hardship. There are also areas of concern with respect to the experiences of marginalised young people such as ethnic and cultural minorities and members of the LGTBI+ community.
The research project was funded through the LEADER programme and Ballyhoura Development CLG with the support of West Limerick Resources.
The Research Advisory Committee included representatives from the above organisations in addition to the Limerick & Clare Education & Training Board, Limerick Children & Young People's Services Committee and Limerick City & County Social Development Directorate.