After 2 years of deep development work, the Skill IT for Youth project is now complete! The results were launched this week in YWI's National Office to great acclaim. Check them out on https://digipathways.io/
As well as the most up to date piece of Research on Digital Youth Work in Ireland and a Policy Brief to further this agenda, we offer three highly practical tools designed specifically for the Youth Sector, to help ease digitalisation at every level of the organisation:
The Digital Learning Planning for Organisations provides a self-assessment tool and guidance to embed digital technology into your youth service or club in a truly youth-centred fashion, and an online course to take your organisation through this process using Design Thinking.
The Competence Framework for Digital Youth Work Practice is an innovative and sector-specific way for youth workers to assess their competence level, receive feedback and advice, and grow their career and their ability to facilitate young people's digital learning.
The Training Toolkit for Youth Workers & Educators to Deliver Digital Skills to Young People supports staff and volunteers with very detailed hands-on scenarios to facilitate digitally-based activities for young people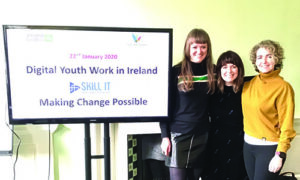 Anne L'Henoret of Youth Work Ireland led this Leargas / Erasmus+ funded project and wants to acknowledge all Partners' contributions but in particular those of Janice Feighery of Camara Education Ireland and Tracey Moore of Youth Work Ireland Midlands. Please use the resources and don't hesitate to contact Anne with any queries.