Youth Work Ireland Week now in its 10th year is a chance for us to celebrate and promote the work local youth services do every week in communities around Ireland. Throughout the week our services will take part in events and activities that promote, evidence and celebrate youth work and young people throughout Youth Work Ireland's Member Youth Services (COVID restriction allowing)
Find out what is happening near you>>
Each year we focus on a theme and develop an activity / programme pack which provides young people with the opportunity to:
Develop knowledge, learning and skills around the theme.
Participate in activities that support personal and social development outcomes.
Have their voices heard on the issues that are important to them.
Showcase and promote the work of our MYS.
Have fun!
Youth Work Outdoors
Due to COVID-19 we have been spending too much time indoors, on screens, separated from each other and generally interacting online. Getting back outdoors and reconnecting with each other in a safe physical way is hugely important for young people's sense of connectedness and mental / physical health. The hard work and passion of youth workers in supporting young people over the last year has been evident and the variety of innovative and creative work resulted in new exciting ways to bring traditional youth work activities and events into an outdoors setting. This will be the focus of Youth Work Ireland Week 2021 and it is an opportunity interact, connect and support young people in a safe and socially distant way.
To support youth workers and volunteers to get back to safely meeting and doing outdoor activities with young people, we have developed a new resource which will ensure that this work can be done creatively and safely whilst adhering to Government Guidelines. #getbackintothatday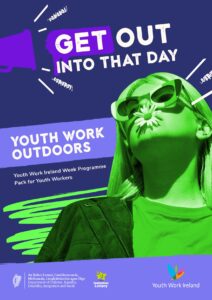 Tell us what you are doing….. if you have an event planning and want it featured in the national campaign email ghalpin@youthworkireland.ie