What is the Refugee Resettlement Programme?
In February Youth Work Ireland Tipperary launched the Refugee Resettlement Programme in North and South Tipperary. The Programme works with newly arrived Syrian refugee families to the county. A number of Syrian families are currently living in reception centres across the country, but will be rehoused in communities across Ireland as part of the government's Irish Refugee Protection Programme (IRPP).  Refugee Resettlement Programmes are run all across Ireland, managed by local agencies.
Who are the families?
The families have travelled varying journeys from war-torn Syria. They will be moving into houses in Clonmel, Tipperary, Nenagh and Templemore. The majority of families have a number of children who will be attending schools and youth services locally.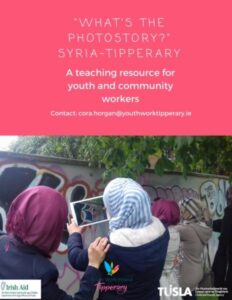 Why Youth Work Ireland Tipperary?
Youth Work Ireland Tipperary have been contracted by Tipperary County Council to run the Resettlement Programme for the county until 2021. Youth Work Ireland Tipperary have been working with the existing Syrian community in Thurles since 2015. In this time, they have retained services including homework support, after-school support, working with young adults, working with the families themselves and most recently have development employment supports and training opportunities.
The Resettlement Team in Tipperary is made up of two Resettlement Workers (RSWs) and two Intercultural Workers (ISWs). This follows the model used in other county Resettlement Programmes. The RSWs, Lindsay and Stephanie, are experienced youth, community and family support workers. ISWs Fayiz and Nade are fluent in English and Arabic and with a wealth of experience of working with refugees in Ireland.
What will we be doing?
The purpose of the programme is to integrate Syrian refugees into their new homes and local community. This involves a wide range of work, from providing day-to-day support, linking with services and agencies, child and youth programmes, informing the local community of developments and forming community links and befriending programmes.
Find out more
For more information contact lindsay.cleary@youthworktipperary.ie or see www.facebook.com/TippRRP