Our Generation
The Our Generation Project provides wonderful opportunities for young people to develop their knowledge around issues such as emotional well-being, sexual health, and leadership through the Be Well Programme, YES Project, and a pilot project, The Youth Fund.
The Our Generation team have been really busy from June to December 2021. They have delivered Be Well to a range of schools and groups including St Bricin's Vocational School, St Mogue's College, Colaiste Muire, St Louis College and St Eunan's. Be Well is an emotional resilience programme which uses the 5-A-Day approach to support young people to address anxiety in their everyday lives.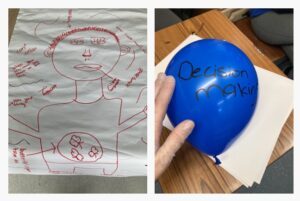 Our Generation have also delivered the YES project to a wide range of groups including in St Louis Secondary School, Beech Hill College, Carndonagh Community School, St Patrick's College and Corran College. YES is an empowering sexual health and reproductive educational programme that will address a range of activities to include sexual identity, healthy relationships, communicating consent, and wider influences and decision making.
The Youth Fund with The Loft completed their sessions in June. The Youth Fund offers out a grant of up to €1000 to support project/activity ideas for groups in local areas. The Youth Fund in Letterkenny chose to award €1000 to Mevagh FRC which they used to buy a gazebo and refreshments so that they could facilitate a socially distanced summer camp on the beach. We now have begun ongoing groups of The Youth Fund with participants in Beech Hill College (Co Monaghan), St Bricin's College (Co Cavan), Drumshanbo Secondary School ( Co Leitrim), Ballinamore Secondary School (Co Leitrim), St Mogue's College (Co Cavan), St Macartan's College (Co Monaghan) and St Louis Secondary School (Co Monaghan).
In August we delivered Be Well Facilitator Training and YES Facilitator Training with staff at St Aidan's Comprehensive School. And then in September, we delivered YES Facilitator Training with adults from across the 5 counties.
We have welcomed two new staff members Amy Sidiropoulos as the Youth Worker for Cavan & Monaghan, and Gemma Ronayne as the Administrator. We are now also looking forward to four students coming on board with us for the next 3-4 months (3 students who are studying Social Care Practice in Sligo IT, and 1 student who is studying Youth Work in TUD).
If you would like more information on the Be Well, YES or Youth Fund programme, then please get in touch with Tracey on 00353 86 067 5334 or by emailing ourgeneration@youthworkireland.ie